Smarter Technology for you
At Oysta, we support the continued choice and independence of Vulnerable Independent People (VIPs). We are confident that you will find a personal alarm which will match your lifestyle and your needs, perfectly.
OystaCare
OystaCare personal alarms give Vulnerable Independent People (VIPs) a cloak of care that goes with them and sends data into our smart care platform, IntelliCare™ so the care circle stay informed.
View our Shop
IntelliCare
IntelliCareTM gives family members peace of mind knowing that they can keep an eye on their parent, child or sibling, even when they're not physically there.
You can use IntelliCare to check on activity levels, hydration and if any alarms have been triggered. Notes can be added about care and reminders to take medications or attend appointments can be set.
IntelliCare makes family member's caregiving duties easier by being kept informed of any changes to their loved one's wellbeing while being able to manage their other responsibilities.
Learn more
Benefits of Oysta
Providing you, and your family or carers with greater peace of mind and support, Oysta technology enables crisis prevention as well as responding to emergency alerts. Monitoring activity and patterns of behaviour, IntelliCare manages data in a safe, secure, encrypted way so your details are never compromised. Able to locate you when you raise an SOS or a fall is detected, then mobilise your care network to deliver the assistance you need, IntelliCare is the power behind all of our mobile telecare solutions.
Each telecare solution in the Oysta range has been designed to be extremely easy to use. No complicated training or installation is required with an Oysta device. Pre-set and ready to use straight out of the box, simply turn it on and you are immediately under the Oysta Cloak of Care.
When it comes to choosing a telecare solution, everyone is different. For some, it may be a simple solution that is worn on their person, to enable them to continue to live an independent life, but with the reassurance that help is always on hand, wherever they are. For others, it may be a combination of solutions that allow family and carers to set safety zones in the community and to monitor movement within the home. This would ensure that in the event of deteriorating health or confusion when alone and outside, the issue is flagged, and assistance is coordinated.
Through the innovative technology that Oysta utilises, we have been able to reduce falls, enable patients to be safely discharged from hospital sooner, and ensure that people can stay at home longer and out of long-term care.
Making a difference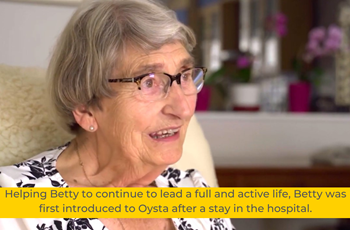 Betty was first introduced to Oysta after a stay in hospital. Unable to be discharged without some support inplace.
Helping Betty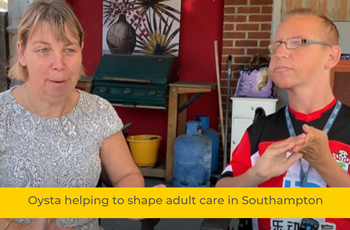 Giving Thomas and his mum Tracey confidence and peace of mind.
Helping Thomas
Liam is one of many people who use the Argenti equipment to remain independent and who's primary carers can be greatly supported by using it.
Helping Liam