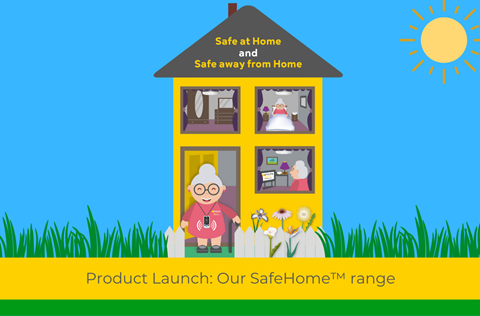 Product Launch: Our SafeHome™ range
We have developed our SafeHome™ range, so that we can provide peace of mind to carers and families that their Vulnerable Independent Person (VIP) is safe at home and with our OYSTA devices, they can remain safe away from home, too.
Our SafeHome sensors and OYSTA devices connect into our care platform, IntelliCare™. IntelliCare enables proactive care because we can set up notifications to trigger when certain events happen, which enable you to review their activity and aid if there is a need.
Our three main sensors, are our Multi-Sensor, Smoke Alarm, Aquarate.
Tags. News
Multi-Sensor
Our Multi-Sensor connects to IntelliCare, so you can monitor your VIPs' sleep time using the bed occupation sensor, and detect if they have left the house or left the light on using the door, light and movement sensors. You'll also be to detect leaks, check there is good airflow, and if the temperature is too hot or too cold.
Our Multi-Sensor has a silent 'Support Required' button which can also be used to log care visits or request assistance.  
Smoke Alarm
If smoke is detected, our intelligent Smoke Alarm sounds a loud, 85db alarm for the VIP, and remotely alerts the Alarm Receiving Centre (ARC) to arrange assistance.
The Smoke Alarm connects to IntelliCare. Care Providers will receive a daily update regarding any maintenance needs and be able to remotely tune the smoke alarm.
Aquarate
Aquarate measures fluid intake to ensure your VIP is keeping hydrated.
Aquarate integrates with IntelliCare where it monitors and logs fluid intake in real-time and lets carers know if their VIP is not drinking enough.