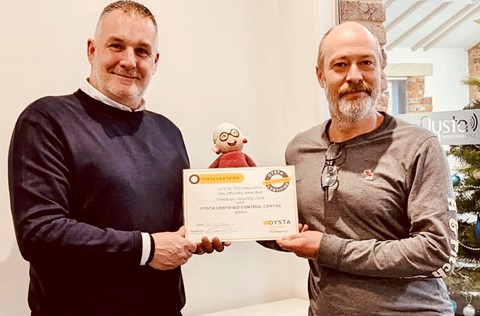 Oysta welcomes Hawkeye Security Care to the Oysta family
Oysta officially welcomes Hawkeye Security Care to the family.
Date. 7 Jan 2022
Tags. News
Working in partnership to deliver an exceptional care and assist service to Vulnerable Independent People (VIP) and Lone Workers, Oysta Technology and Hawkeye Security Care are pleased to announce  their collaboration.
Blending Oysta's digital telecare technology with Hawkeye's excellent 24/7 response service, the two SME's are combining their skillset to provide a person centred, end-to-end managed service that protects and provides reassurance for all types of VIPs and their extended care network. 
Mario Zuccaro, Oysta Technology, says:
"The VIP will be firmly at the centre of the service that we are able to provide, working with Hawkeye. Through this partnership we can provide bespoke solutions, with bespoke procedures and response actions, to meet the exact requirement of the VIP. We are proud to be working with Hawkeye Security Care, and look forward to providing excellent outcomes to VIPs using our telecare solutions." 
Pictured receiving a certificate from Mario and Pearl at Oysta HQ,  is Hawkeye's Managing Director Richard Merchant.