Smarter Technology for Ocupational Therapists
Independent People want to remain living in their own homes, with support on hand if they need it to stay safe. Oysta's digital care devices have high user acceptance and are proven to help keep people in their own homes, for longer. 
Benefits for Carers, Occupational Therapists and Prescribers
Integrating with any Alarm Receiving Centre (ARC), and sending alerts to the care circle via IntelliCare, Oysta's care intelligence platform supports a wide range of digital wearable devices and home sensors to create a package designed for the individual which promote independence and activity. 
Data generated provides valuable insight for the care circle to deliver personalised, preventative care inside and outside the home. 
Fully integrated digital and mobile devices are ready for the digital switchover and all devices are instantly linked for any type of use. Interoperability and technology limitations vanish.
How does Oysta's tech do it?
Oysta's IntelliCare™ platform provides data and analysis to support effective care decisions and prioritisation, helping customers to deliver better outcomes.
Being digital and mobile, Oysta's technology is not dependent on any landline or Wi-Fi. It offers a "cloak of care" that goes everywhere with the individual.
Oysta's devices and sensors link into the cloud-based, IntelliCare platform that provides real-time data on an individual's location and activity, linked to real-world information such as humidity, time and weather to provide a 360-degree view of a person's wellbeing.
IntelliCare is used by the care circle to provide regular, automatic updates on activity and location; these enable trend analysis to identify unusual patterns of behaviour supporting the implementation of interventions to prevent negative events from occurring.
Oysta's IntelliCare platform simplifies technology-enabled care and transforms reactive care into efficient, personalised, preventative care.
The benefits of investing in Oysta Technology
Safer patient discharge 
Reduced delayed transfer of care 
Reduced hospital readmittance 
Reduced total cost of care  
Reduced needs for additional care 
Reduce need for 1-2-1 support in the community 
Increase the number of people that walk with purpose to continue living at home
Reduce Ambulance callouts 
Reduce false fall alarm detections 
Reduce need for search and rescue for wandering VIPs
24/7 care coverage
Instant alerts and peace of mind
Personalised care
Sharing live information between a multi-disciplined care network, IntelliCare drives person focused care. Well-being data is accessible to everyone within a VIPs care network, enabling fast and targeted response to any alerts. Providing better outcomes for the VIP and more efficient partnership working between care service teams.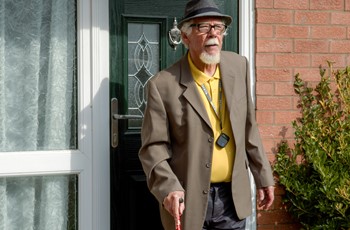 Oysta helps Vulnerable Independent People (VIPs) stay safe at home and away from home. Our telecare devices encourage VIPs to pursue an active lifestyle with a safety net in place.
Mobile telecare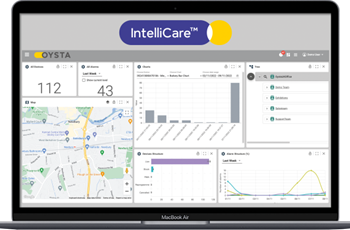 IntelliCare™ is a smart cloud-based platform which links all Oysta devices and sensors into one secure dashboard. Designed to support effective care decisions, it helps care teams deliver better patient outcomes by providing a real-time reflection of VIP's activity, location and wellbeing.
IntelliCare™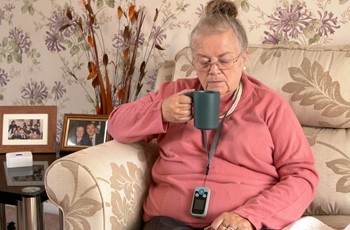 SafeHome™ are our passive sensors that monitor VIPs home environment to detect anomalies in their activity patterns as well as ensure they are safe from smoke, and leaks and receive good airflow through their home.
SafeHome™
Book a FREE Demonstration
Get in touch for a free demonstration of our devices, sensors and care platform. 
Making a difference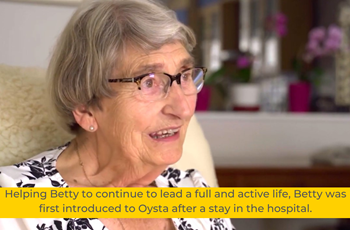 Betty was first introduced to Oysta after a stay in hospital. Unable to be discharged without some support inplace.
Helping Betty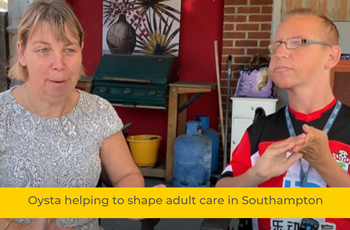 Giving Thomas and his mum Tracey confidence and peace of mind.
Helping Thomas
Liam is one of many people who use the Argenti equipment to remain independent and who's primary carers can be greatly supported by using it.
Helping Liam