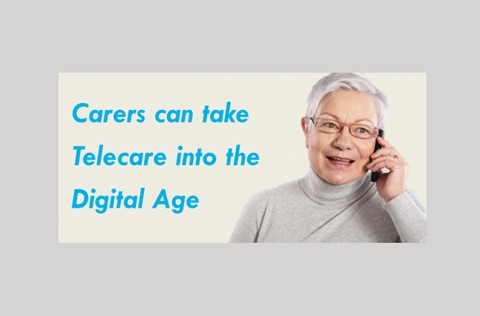 Date. 29 Jun 2020
Tags. News

29 Jun Carers can take Telecare into the Digital Age
In this blog we explain how telecare has evolved and how carers hold the key to raising awareness of advanced telecare services that are fit for the digital age and improve the lives of vulnerable individuals.
So when did it begin?
This rather amusing video from 1961 titled "Aged Can Call Help!" shows whistles being handed out and was simply the ability to raise 'an alarm' something that would get the attention from someone nearby that could fetch further assistance. We now have dispersed alarms (typically pendant and base units) hardwired into phone lines that provide those in need a simple alarm service when at home. But that's where telecare seems to have stopped!
For the past 40 years this type of pendant and base unit (aka "button and box") has been the mainstay of telecare providers, but as many will tell you, it has limitations:
High false alarm rate, leading to unnecessary (and costly) call outs
Clients must be near to the base unit to hear or be heard
Service only work within proximity to the base unit, generally only in the client's home
Majority uses old analogue technology that is being phased out
The resulting effect of over 1.5million of these units is the rising costs of care, poorly supported clients and overworked care professionals.
Mobile telecare is born
It is now increasingly common for people to be equipped with mobile services across a wide variety of scenarios. Mobile telecare services provide the freedom to be at home and in the community while being safe. It enables them to request assistance when they feel vulnerable or to be triggered automatically (i.e. fall-sensor), inside and outside the home. Telecare providers manage these requests and can now speak directly to the user, passing on all relevant information to the appropriate response services – no matter where they are!
Because it's mobile, vulnerable people can lead freer, happier lives. Josephine's Story illustrates the service well and what it means for her life.
As Josephine says, "its allowed me to get out, … without having to rely on people to take me out all the time".
Across the United Kingdom, speeding up how we introduce technology-enabled care as part of better care is not a choice, nor is re-inventing how we do it many times across the country. Many vulnerable people could benefit from support to live independently right now.
So why isn't it happening everywhere?
It is happening in pockets across the UK, such as the Argenti Telecare partnership and the great work they have done using technology-enabled care within Hampshire County Council to transform social services telecare. But squeezed budgets, dated infrastructure and lack of NHS and Social Care integration leads to slow change within statutory care services.
What we now need to do is raise awareness within the private care organisations, the charities and across the 6million+ informal family carers supporting loved ones that technology can support them. Technology shouldn't replace people and we believe many family members want to be more involved but current technology doesn't allow this. Oysta's mobile telecare allows critical alarms to be managed by the experts, 24-7; whereas non-critical alerts can be sent to and managed by family members, should they wish to check and see if family members are okay – all through a customisable package.
Oysta also extends the support that professional carers can provide, outside of the daily visits. When the door is closed, it may be many hours before carers see clients again; Oysta's mobile telecare allows your clients to always be in contact with someone should they need help. And what if your client needs to go to the shops, see friends or walk their dog? Oysta goes with them – it provides them with the freedom and confidence to get out of the house safely, maintaining levels of physical activity and their friendships.
We are helping to raise awareness in support of UK Telehealthcare Week 26-30 June 2017. So if you know anyone that could benefit from Oysta's mobile telecare services or work for an organisation that could offer this service to their clients – we'd love to hear from you.